cm059: Ebook carburetor service manual - 26 pages, 31 MBytes, pdf format
Complete service manual: Comprehensive factory service information for the Carter YF carburetor. Includes theory, diagrams and complete overhaul procedures. Fast, secure e-book download.

Covers the Carter YF carburetor used on 1966-1982 American Motors, Jeep, Ford and Mercury applications.
Thumbnails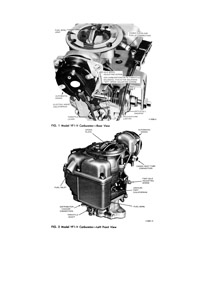 Table of Contents
Basic Carter YF Service Procedure
AMC Model YF Manual

Carburetor Circuits
Disassembly
Cleaning and Inspection
Assembly
Service Adjustment Procedures

Ford Model YF Manual

Description
Adjustments
Removal and Installation
Disassembly and Assembly
Exploded Diagram

Adjustment Specifications
Kits Covered WIth This Manual