cm355: Ebook carburetor service manual - 103 pages, 75 MBytes, pdf format
Complete service manual: Comprehensive factory service information for Rochester Quadrajet M4ME carburetors. Includes theory, diagrams, detailed specifications, tune-up data and complete overhaul procedures. Fast, secure e-book download.

Covers 1979 Buick, 1982-1988 Chevrolet, 1979-1986 Chevy/GMC truck, 1981-1986 Oldsmobile and 1979-85 Pontiac carburetors. Includes 1980 Pontiac Turbo M4ME carburetors.
Thumbnails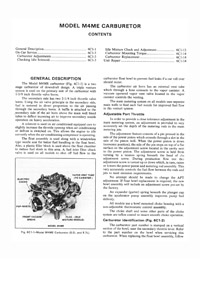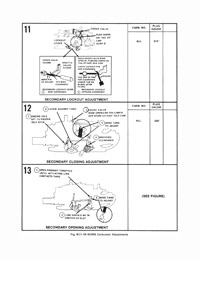 Table of Contents
Rochester M4ME Manual - 1980

General Description
Systems Operation
On-Car Service - Adjustments
Idle Mixture Adjustment
Unit Repair
Disassembly
Cleaning and Inspection
Assembly

1980-1984 New Product Information

1980
1982 M4MC / M4ME
1983
1984

1980-1986 Quadrajet Parts Lists and Applications

1980
1981
1982
1983
1984
1985
1986