cm483: Ebook carburetor service manual - 72 pages, 42 MBytes, pdf format
Complete service manual: Comprehensive factory service information for the Carter WCFB carburetor. Includes theory, diagrams, detailed specifications, tune-up data and complete overhaul procedures. Fast, secure e-book download.

Covers 1957 AMC (Nash-Hudson), 1952-53 and 1955-56 Buick, 1956-57 Cadillac dual carbs and 1957 Lincoln and Mercury applications.
Thumbnails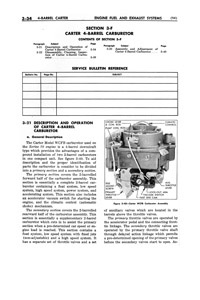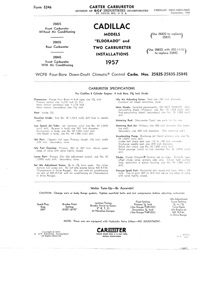 Table of Contents
Description and Operation
Disassembly, Cleaning, Inspection
Assembly and Adjustment
Buick Specification Sheets
1956 Buick 2347S
1955 Buick 2358S
1955 Buick 2197S
1954 Buick 2082S
1953 Buick 996S 2053S

Carter WCFB for Buick Adjustments

1952 Buick 894S

Carter WCFB for Buick Adjustments
Cadillac Dual WCFB Carburetors
1957 Cadillac
1956 Cadillac
1957 Lincoln and Mercury
Lincoln Engine 2404S

Carter WCFB adjustments for Lincoln

Air Conditioning Fast Idle Device Assembly
Nash-Hudson
1957 Nash-Hudson 2593S

Carter WCFB for Nash Adjustments